These are 5 fun things to do in Sihanoukville that don't cost much money and give you an opportunity to see Sihanoukville and the surrounding area from a new perspective.
1: Rent a Bicycle
The clothes I brought with me from Australia have all rotted away; my books sit on the shelves gathering dust; but my trusty mountain bike is still my best friend. I don't really need all those gears, though, and neither do you. Sihanoukville is mostly flat and fat tires aren't really necessary even on the dirt roads. Rent a bicycle for $3 a day and if you don't stick with the main roads, you'll love exploring Sihanoukville by bike. I recommend taking the beach road that goes around the Sokha Resort and on to Independence Beach. Take some side routes and you'll discover places like this fishing village near Sokha Resort.
2: Rent a Kayak
I rented a kayak from Otres Nautica Sailing Club for the first time a couple of months ago. Frankly, those blue plastic kayaks never looked fun to me before, but it was great fun and a lot more strenuous than I imagined it would be. I went up the estuary and although I didn't get far, from my perspective in the kayak, it felt like I was on an Amazon adventure – sort of. Cost: $3 an hour from Nautica.
3: Rent a Hobie Catamaran
On the day I rented the kayak, I vowed to step up to the $10 an hour Hobie cat the next chance I got. I was kind of nervous about it, but by the time I was too far out to sea to change my mind, I was already addicted. I just sailed out to nearby Koh Kteah, but next time I want to take Nautica up on their $30/half day (6 hours) deal and sail to Koh Russei (Bamboo Island). The catamaran was remarkably fast and I was told you can easily do it in 6 hours with time to spare to go ashore and enjoy a meal and a swim.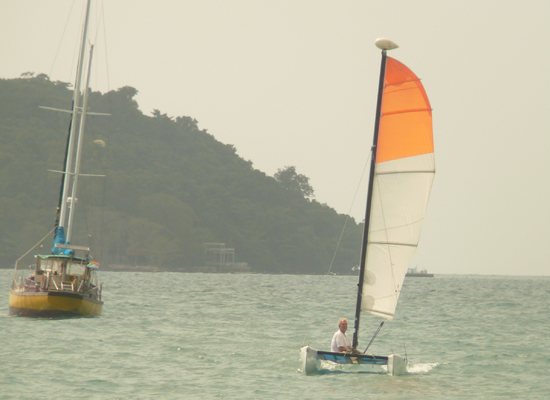 4: Rent a Motorbike
Rent a motorbike and ride it outside of the city limits, that is. Riding around Sihanoukville is a pain, but once you get away from the traffic, it can be a real adventure. You don't need one of those annoying dirt bikes, either. I've been on all kinds of dirt roads and tracks on my 110CC Yamaha and never had a problem.
5: Go to a Wat
You don't need to be a Buddhist or even religious to enjoy Cambodian wats. The great thing about them is that they are so often located in scenic locations you might not otherwise visit. Start with Wat Krom and Wat Leu in Sihanoukville, but if you get the chance, head out to Ream and have a look around Wat Ream or Wat Samathi. I especially like Wat Samathi because it has a trail you can take around the mountain.
I'm going to end this post with a plug for World Nomads Travel Insurance. Yes, the profit motive is part of the reason (I'll get a commission if you decide to buy it), but it's also because I chose World Nomads instead of another travel insurance for what I think are good reasons. Check out my article, Why World Nomads Travel Insurance? and find out what those reasons are.